After visiting the Grand Canyon and Sedona, I wanted to stop in a state park to see how it works. I chose the Dead Dead Horse Ranch State Park in Arizona, located 25 miles in the south west of Sedona. In the middle of the forest of Cotonwood and in the front of the Verde river, the landscape is absolutly amazing. The park offers a beautiful vegetation as well as a very rich wildlife with several protected species. RVers or campers can choose between several areas of settlement : near the lake, near the mountains, near the facilities. Me, I chose the mountains. Because of that, I had the chance to see two deers through the window.
The park has something magical. While hiking, I felt decompression, well-being, reassurance. Apparently, I was not the only one since several full-time RVers met over there came to the park to heal and to cure. The park environment seems to be fruitful for good health. The fact that there are vortex in the region is probably a main reason for that. The park is also a good place for meditation and relaxation.
I should say I did my last interviews in this park and had to go back to Quebec to my University after that. And I didn't wanna go at all.
The Dead Horse Ranch State Park is a place I really much advice to go, especially for nature lovers. You can do many hikes in the park on the mountains or on the Verde River, you can do kayaking on the river, you can fish in the park lakes or in the river, etc. The park is near Cotonwood, that means you get the advantages of living near by a city without the disadvantages since you are in the nature.
Rendezvous to all RVers who want to go relax in a mysterious universe : the Dead Horse Ranch State Park.
Après avoir visité le Grand Canyon et Sedona, je souhaitais m'arrêter dans un parc d'état pour voir comment cela fonctionnait. Mon choix s'est alors porté sur le Dead Horse Ranch State Park en Arizona, situé à une quarantaine de kilomètres au sud-ouest de Sedona. Au milieu de la forêt de Cotonwood et sur le bord de la Verde river, le cadre est absolument magnifique. Le parc offre une végétation extraordinaire et une vie animale riche puisque plusieurs espèces y sont protégées. Les RVers ou campeurs peuvent choisir entre plusieurs aires de stationnement: soit près du lac, soit sur les hauteurs, soit près des commodités. En ce qui me concerne, j'ai choisi les hauteurs. Cela m'a d'ailleurs permis de voir des biches à travers la fenêtre de mon VR.
Le parc a quelque chose de magique. En s'y promenant, j'ai ressenti une sorte d'apaisement, de bien-être et de décompression. Apparemment je ne suis pas la seule, puisque plusieurs full-time RVers rencontraient là-bas m'ont confié demeurer dans le parc pour des questions de santé. Il semblerait que l'environnement du parc soit conseillé pour la remise en forme et les cures de santé. La présence des vortex dans toute cette région a certainement son rôle à jouer là-dedans. Le parc est également un lieu propice à la méditation et à la relaxation.
Je dois admettre que c'est dans ce parc que se sont déroulés mes derniers entretiens. Je repartais ensuite en direction du Québec pour retrouver les bureaux de l'université. Je n'avais donc aucunement envie de quitter ce parc.
Le Dead Horse Ranch State Park est un lieu que je conseille à tous les amoureux de la nature. Il est ainsi possible d'y faire de nombreuses randonnées aussi bien sur les collines qu'au bord de la Verdre River, de faire du kayak sur cette rivière, de pêcher dans les lacs du parc ou dans la rivière, etc. Le parc étant à proximité de Cotonwood, il a les avantages de la ville sans les inconvénients.
Avis donc aux amateurs qui iront se détendre dans cet univers mystérieux qu'est le Dead Horse Ranch State Park.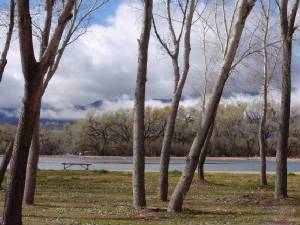 A place in peace / Un lieu de paix, Feb.05